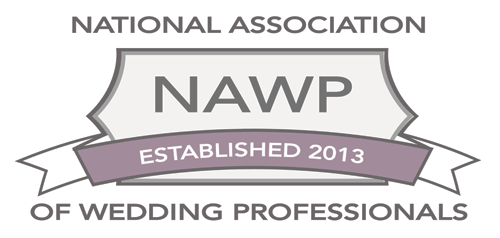 In 2013 Siobhàn helped form The National Association of Wedding Professionals (NAWP - click here for their website) to promote professionalism and integrity within the UK Wedding industry.
Between them, the four directors (Amanda Sherlock, Hazel Parsons, Siobhàn Craven-Robins and Tracy Butterfield) offer a combined 60 years of experience in the UK Wedding Industry.
The aim of NAWP is to promote professional standards and ethics within the UK Wedding industry in order that a consistency of standards is maintained to meet the expectations of the Wedding clientele.
The NAWP logo is synonymous with excellence. Clients know, on seeing the logo, that they are booking a vendor of professional and ethical calibre, whose work has been recognised and acknowledged through stringent joining criteria.